Careers Information, Advice and Guidance to help your child
As your child progresses through school and starts looking ahead to a life after education, it can be difficult for Parents and Carers to know how to help them navigate the confusing world of career options. For many, the ultimate challenge is knowing how to offer support without projecting your own career aspirations onto your children. With so much change – from new apprenticeship schemes, emerging technologies, political and environmental upheaval and the coronavirus crisis – Parents and Carers can feel in need of a guiding hand themselves.
This guide contains:
Choosing a career path
Pathways into work
University
Apprenticeships
Employability skills
Subject journeys
Gap years
How to future-proof your child's career
Action plan
This guide has been created by www.successatschool.org to help you take a positive role in your child's career journey. You will find a step-by-step guide to help them focus on career paths connected to their skills and interests. Please click on the image to access this publication.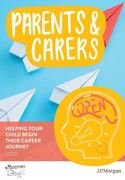 ---
The Parents' Guide to Careers
Whether your child is starting to think about what they might like to do when GCSEs are over or whether they're 18 and making plans for adulthood, this guide will help you understand what vocational choices your children have, how you can support them and ideas on what they can do now to help them stand out.
This guide includes:
How to talk to your teen about their future;
Virtual work experience - what it is and why it's so important;
A summary of all vocational options after GCSE;
Apprenticeships - why they're of value and whether they'd suit your child;
Other options, such as internships, gap years and starting a business.
Please click on the image to access this publication.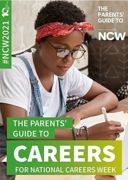 A Guide to Post-16 Career Options for Parents and Carers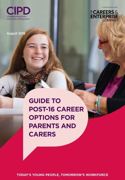 This guide produced in partnership with CIPD and the Careers Enterprise Company, is designed to help if you are a parent or carer to a child aged 11 to 24 and are thinking about their future career and what can be done to improve their opportunities. Please click on the image to download a free copy this publication.
---
Parental Guidance Website
This website has been designed with Parents and Carers in mind. It covers all areas of careers and offers ideas on how you can support your child on the following:
The Parents' Guide To.....
'The Parents' Guide To...' website provides a range of free support for Parents and Carers of children taking GCSEs. It includes guides, useful articles, a Q&A system where we answer questions personally, live chats, and a blog with the latest news. It covers all the important issues Parents and Carers may need help with. The website can be accessed via this link: www.theparentsguideto.co.uk/parents
Parental Support for Students in Year 11
As part of their support, 'The Parents' Guide To' has created two new free guides which give advice about helping children stay on track whilst studying for either GCSE or Sixth Form qualifications.
Click here to view 'The Parents' Guide To' website and to access their download links and resources.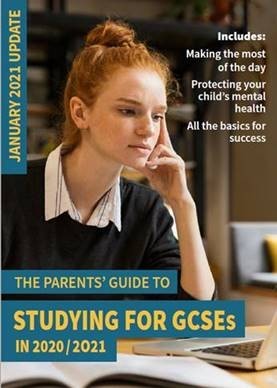 National Careers Service